(BPT) – As the holidays approach, meal planning and prep take on special importance. Between getting ready for festive celebrations and putting "in-between" everyday meals on the table, it can seem like there's not enough time to relax and enjoy the season. Fortunately, with a little planning and these helpful hacks, meal prep during the holidays can be delicious, nutritious, and best of all, easy. Everyone will feel better with appetizing, regular meals to keep up energy throughout the holidays.
1. Keep it simple
Save your energy for those special holiday celebrations that take lots of planning, shopping and prep by keeping things simple in between with low-effort, tried and true everyday dinners. No need to reinvent the wheel now! Whether it's leaning into your slow cooker or time-honored roasting pan for one dish meals that fill your home with tempting aromas at the end of the day, or getting creative with pantry staples and convenience items already on-hand for sheet pan dinners, you've got this.
2. Stock up on staples that matter
Stay well-stocked on items you use every week, and that serve as nourishing building blocks for your go-to meals. This can include things like olive oil, coconut oil, low-sodium broths, pasta and whole grains, canned tomatoes and sauces, frozen veggies (so you won't have to worry about them going bad), canned or dried beans/lentils, eggs, frozen meat, shredded cheese, and other high-quality proteins. Your shopping list is one of a kind, so think over the last month to review what you used most often to create dinners. Plan ahead and stock up to avoid running out or having to run to the store at the last minute. Your future self will thank you.
3. Order meat online
Keep your freezer well-stocked with an assortment of high-quality meat that will give you plenty of meal options for any occasion. If you're looking for organic, ethically raised meat, you can order beef, chicken, turkey and pork from OrganicPrairie.com, and have everything conveniently shipped frozen, right to your door. No frantic grocery store visits needed!
From grass-fed ground beef, pork chops, chicken breasts, ground turkey and more for everyday meals, to whole turkeys, spiral-cut ham and beef brisket worthy of your holiday table, they're all just a click away. These choicest, cleanest cuts of meat come from small family farms that don't use antibiotics, synthetic hormones or feed containing harsh pesticides. OrganicPrairie.com even offers beef hotdogs, which are the most popular meal the night before Thanksgiving!
Gift hack: Gift season is coming! Are you stumped on what to get that one person who is difficult to buy for? Nothing is better than high-quality frozen meat as the perfect delicious, stress-free gift for loved ones.
4. Use prepped ingredients
Pack your fridge with prepped ingredients from your grocer's produce section, such as cubed squash or chopped broccoli, for quick and easy soups, casseroles or stir fries. Did you know that you can purchase ground beef that's already seasoned for recipes that call for Italian or Mexican herbs and spices, or even sloppy joes? Keep a few pounds of seasoned ground beef in your freezer for the shortest — and tastiest — route to family favorites like tacos or meatballs and spaghetti.
5. Double up!
Whatever you're making one night — casserole, soup, lasagna — cook double, then refrigerate or freeze half so you can enjoy weeknight favorites twice, with half the effort. Store extra portions in containers clearly labeled with their contents and the date so you'll know what you've got, and how soon you should eat it up!
Bonus Hack: Embrace leftovers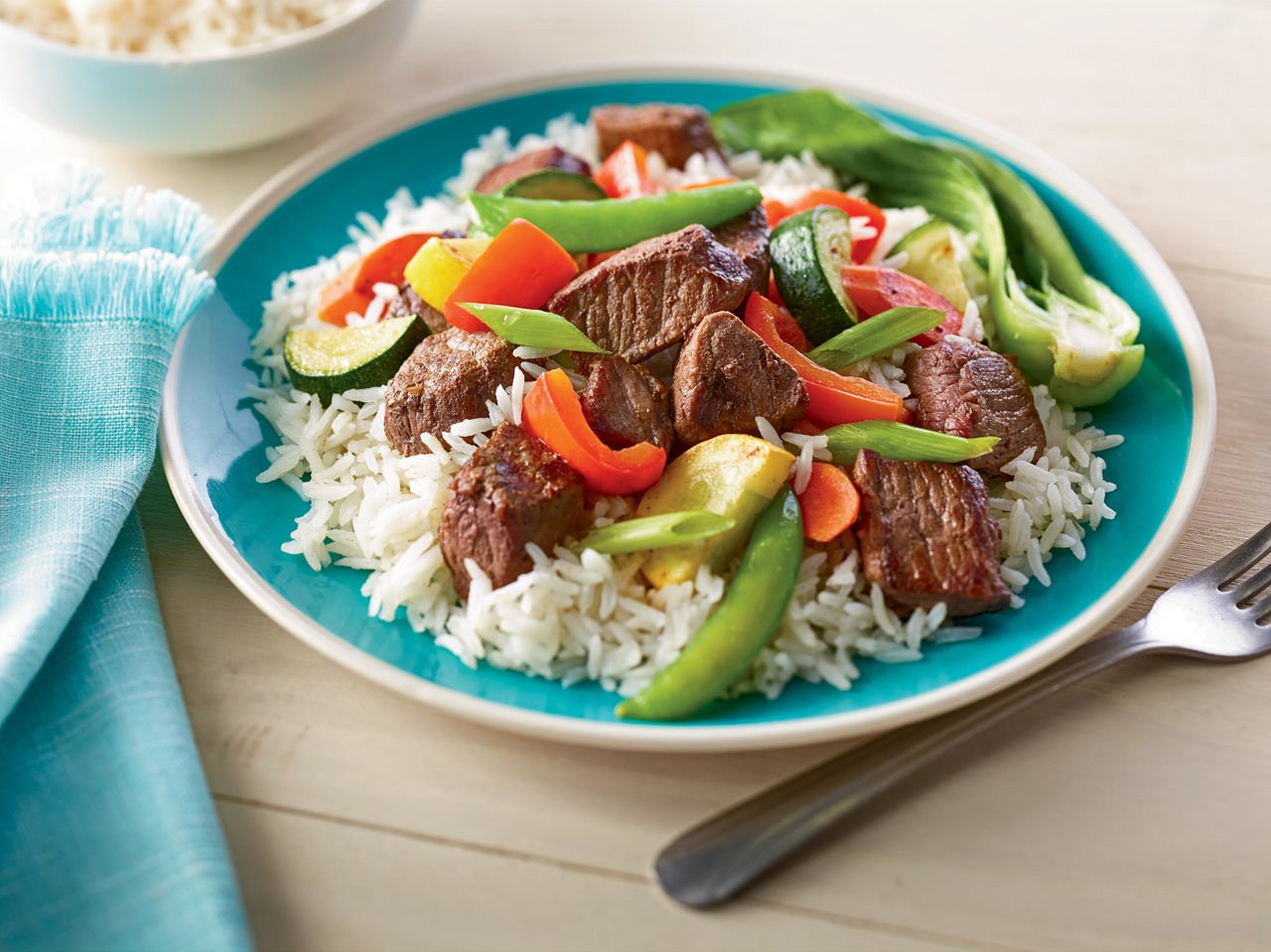 Re-purposing leftovers saves tons of time while helping to reduce food waste. For example, with leftover cooked meats, you can:
Cube or shred leftover meats and add to soups or stews made with beans, pasta and/or frozen vegetables. Cut up and add meat to stir-fried veggies, then serve with rice. Or add some heft to your favorite frozen cheese or veggie pizza by sprinkling it with shredded or ground meat the last few minutes of baking.
Pro Tip: Don't overcook pre-cooked meat or it can dry out — just heat enough to warm up. According to the FDA, you can safely store cooked meats in the fridge for 3-4 days, so be sure to use them within a few days of cooking.
Cheesy Stuffed Bell Peppers
By Nicki Sizemore (From Scratch Fast / @FromScratchFast)
Reinvent Taco Tuesday with these easy taco-inspired stuffed peppers! Organic Valley Fiesta Blend Ground Beef gives the meat and black bean filling tons of flavor with minimal effort, while melted cheese makes them completely irresistible. You can freeze the peppers after baking for a quick and easy dinner down the line (reheat the peppers in a covered dish at 350 degrees F until warmed through).
Serves: 4-6
Prep time: 20 minutes
Cook time: 30 minutes
Total time: 50 minutes
Ingredients
Cooking spray or oil for pan
6 medium sweet bell peppers (red, yellow, and/or orange)
1 pound Organic Prairie Fiesta Blend Ground Beef
1 tablespoon olive oil
1 15-ounce can black beans, drained and rinsed
1 cup fresh or frozen sweet corn
2 large scallions, thinly sliced, plus more for serving
Juice from ½ lime
1½ cups (1 6-ounce bag) Organic Valley 3 Cheese Mexican Thick Cut Off the Block
Organic Valley Sour Cream, for serving
Avocado slices, for serving
Directions
Preheat the oven to 425 degrees F. Line a large baking sheet with parchment paper and spritz it with cooking spray (or brush with oil).
Cut the peppers in half lengthwise (through the stem). Remove and discard the stems, seeds and ribs. Arrange the peppers, cut sides down, on the prepared baking sheet. Bake 15 minutes. Flip the peppers over and bake 15 minutes longer. Remove the pan from the oven (leave the oven on).
In the meantime, heat the olive oil in large skillet over medium-high heat. Add the Organic Valley Fiesta Blend Ground Beef. Cook, breaking up the meat with a wooden spoon, until the meat is cooked through, about 3-4 minutes. Spoon off and discard all but 1 tablespoon of fat from the pan.
Stir in the black beans, corn, and scallions. Cook until warmed through, 1-2 minutes. Remove the pan from the heat and stir in the lime juice.
Spoon the meat mixture into the pepper cavities, pressing it firmly. Mound the cheese on top of the peppers. Bake 3-5 minutes, or until the cheese is melted.
Dollop the peppers with sour cream and garnish with avocado slices and sliced scallions.
Visit OrganicPrairie.com for more recipes to inspire stress-free holiday mealtimes!