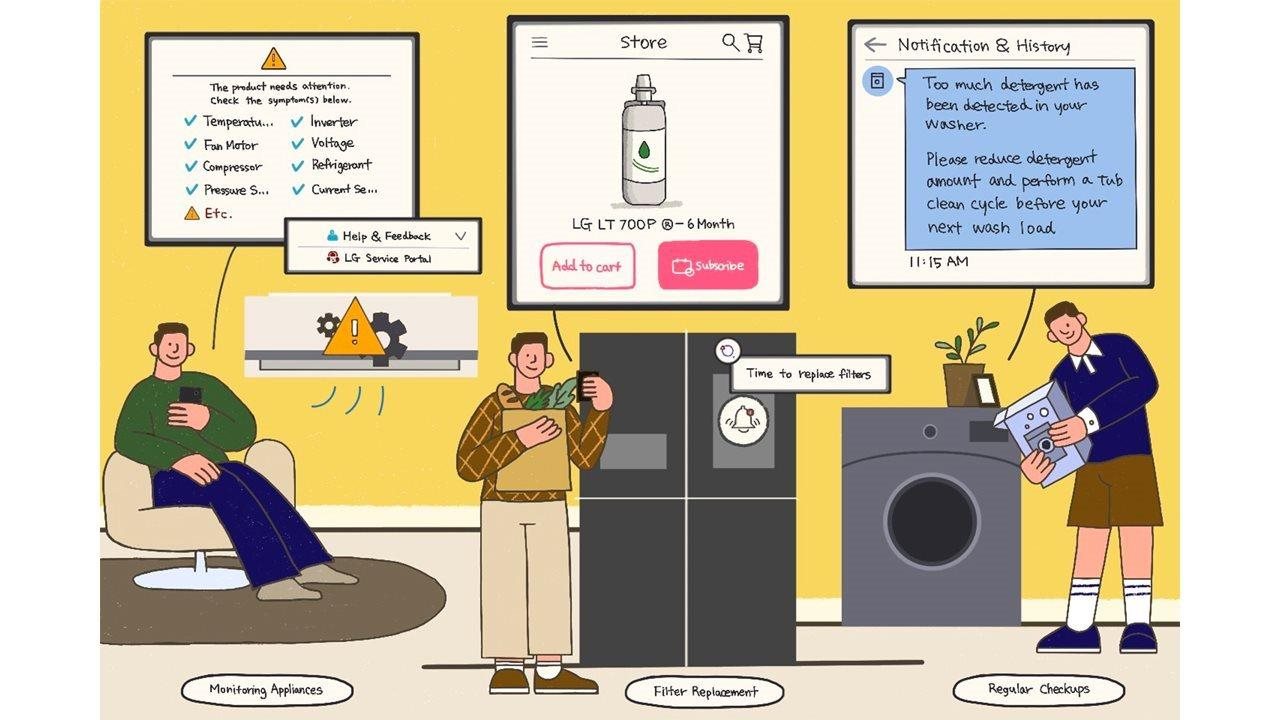 (BPT) – Home appliances are the unsung heroes of the long, cold winter months, helping us stay cozy, clean and nourished while we look ahead to warmer days. From the ovens that enable us to cook up delicious, hot meals to the air purifiers that keep the indoor air fresh, and the laundry machines that ensure we have clean, dry clothes regardless of the weather, household appliances play a big role in taking care of our families year 'round.
Now that spring is coming, it's a good time to give our hard-working gadgets a much-deserved checkup. Thanks to smart home platforms from providers like LG, the tasks of monitoring appliance performance and replacing overused expendables, such as filters, are a lot easier nowadays. Using the LG ThinQ app, for example, almost everything can be taken care of right from the screen of your smartphone, saving you time and hassle.
Here are some smart tips to help get your trusty home appliances ready for the brand-new season.
Monitoring the 'Health' of Your Appliances
First and foremost, make sure that your appliances are in good running order. Excess heat or noise, or any sign of water leakage, are all indications that your devices need attention. To identify the root causes of such issues, it's a good idea to head straight for the troubleshooting section of the relevant product manual.
For an easier way to find answers, why not enlist the help of smart technology? The Smart Diagnosis feature of the LG ThinQ app conveniently enables you to monitor the state of your smart appliances straight from your phone. Make sure that your LG appliance supports the feature by checking for the Smart Diagnosis logo[i]. If one of your appliances does have a problem, this feature will alert you with an error code, identified symptoms, and simple directions to walk you through the entire troubleshooting process. You can, of course, receive additional assistance by contacting the customer support center at the tap of your finger.
Filter Replacement Made Easy
To keep your household appliances operating in optimal condition, it's important to replace filters at the recommended time. Ordering new filters is much faster if you know which ones are compatible with your appliance models.
If you aren't so sure about which filters to buy and where to get them from, no worries — with the LG ThinQ app, you can quickly find what you need by connecting to the online store. For the cherry on top, this app can notify you when your filters need replacing, giving you one less thing to remember as you go about your busy life. All you need to do is hit the reset button on your appliance right after replacing a filter, and the app will track the filter's remaining life period.
The shopping process also is easy when you connect your appliance with Alexa. Once connected, you can set up smart reorders to automatically replenish your filters from Amazon when you're almost out. Don't want smart reorders? You can choose to just receive notifications from Alexa instead.
Regular Checkups the Smart Way
Even if your appliances are running well, it's still important to regularly check them, as doing so can help you to avoid any potential problems in the future. Refer to the product manuals and manufacturers' websites on how to best manage and maintain your various gadgets.
with aA feature called "Proactive Customer Care"can provide preemptive alerts to help keep your appliances functioning at their best by preventing misuse. Let's say, for instance, that you're using more laundry detergent than necessary — a common mistake of a laundry novice, but over-sudsing that can damage your clothes and your washer. The ThinQ app will send over an alert, along with handy recommendations to keep your washing machine in best working order. In addition to customized maintenance tips, this AI-powered service offers monthly usage reports, so you can see your use–patterns and preferences, and where you can possibly save on energy.
Purchasing a home appliance is a big investment, and proper maintenance can play a big role in making that investment worthwhile. Smart technologies like the ThinQ app give you peace of mind and help ensure your appliances work as intended, season after season. Simply access and experience everything.
---
[i] 'Smart Diagnosis logo may vary depending on the regions and product models.