(BPT) – Dark or milk chocolate? Caramel or cream? Seasonal or classic flavors? When it comes to the best chocolate confections, everyone has their favorites. As the winter chill sets in, it is natural to crave those timeless moments of togetherness and celebrate with melt-in-your-mouth treats.
If you live in the Midwest, you've come to expect the best confections from Fannie May, maker of premium chocolates for over 100 years. Now available nationwide online, everyone can indulge in delicious chocolates that will add to any occasion.
Explore these top sellers for the holiday season that are sure to make your chocolate dreams come true:
Indulgent Milk Chocolate Pixies
The Fannie May Pixie is a beloved classic. The buttery caramel and fresh pecans covered in rich milk chocolate are irresistible. Now available in a beautiful red snowflake wrapping paper, it's the perfect present. Send them to loved ones across the country or stock up as gifts to neighbors, friends, teachers and more.
12 Days of Christmas chocolate variety
Forget a partridge in a pear tree! If you love chocolate treats, you'll delight over the 12 Days of Christmas Snowflake Gift Box. This impressive selection features an assortment of eggnog creams, dark chocolate truffle Trinidads, buttercreams, milk chocolate Santas and more, all arriving in a navy snowflake box fitting of the season. Buy one for yourself or gift to loved ones for a season full of chocolate joys!
Mint Meltaways for seasonal savoring
Beautifully designed for holiday get-togethers, mouthwatering Mint Meltaways feature a cool, creamy mint chocolate center coated in sweet white confection and sprinkled in red and green sugar crystals. Available for a limited time in a green snowflake gift box, 1-pound Holiday Mint Meltaways are ideal for a hostess gift or simply as a gift for yourself.
Cool and delicious Peppermint Bark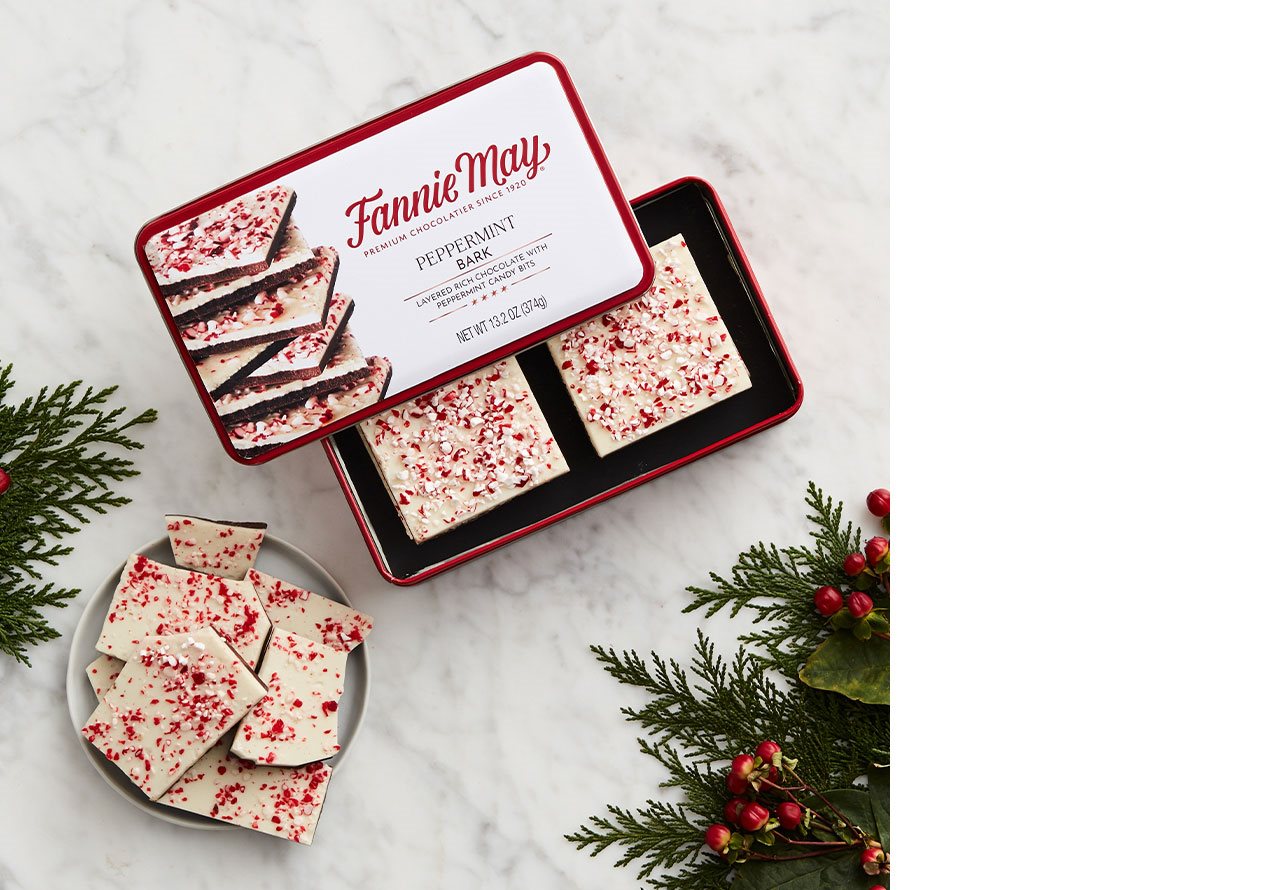 Peppermint may be the quintessential flavor of the holiday season, but if you want something more refined than candy canes, you must get some Peppermint Bark. Made with Fannie May's own special blend of rich dark chocolate and creamy white confection layered together with crunchy bits of cool peppermint in a giftable tin, it's the gift that keeps giving all season long.
Solid milk chocolate stocking stuffers
Holiday Foil-Wrapped Chocolate Gables
are this year's must-have holiday extra. This three-pack features chocolates in three different holiday-themed designs — presents, Santas and snowmen — each wrapped in colorful foil wrappers for a festive presentation. Unwrap each festive piece to discover melt-in-your-mouth solid milk chocolate that is sure to send taste buds dancing.