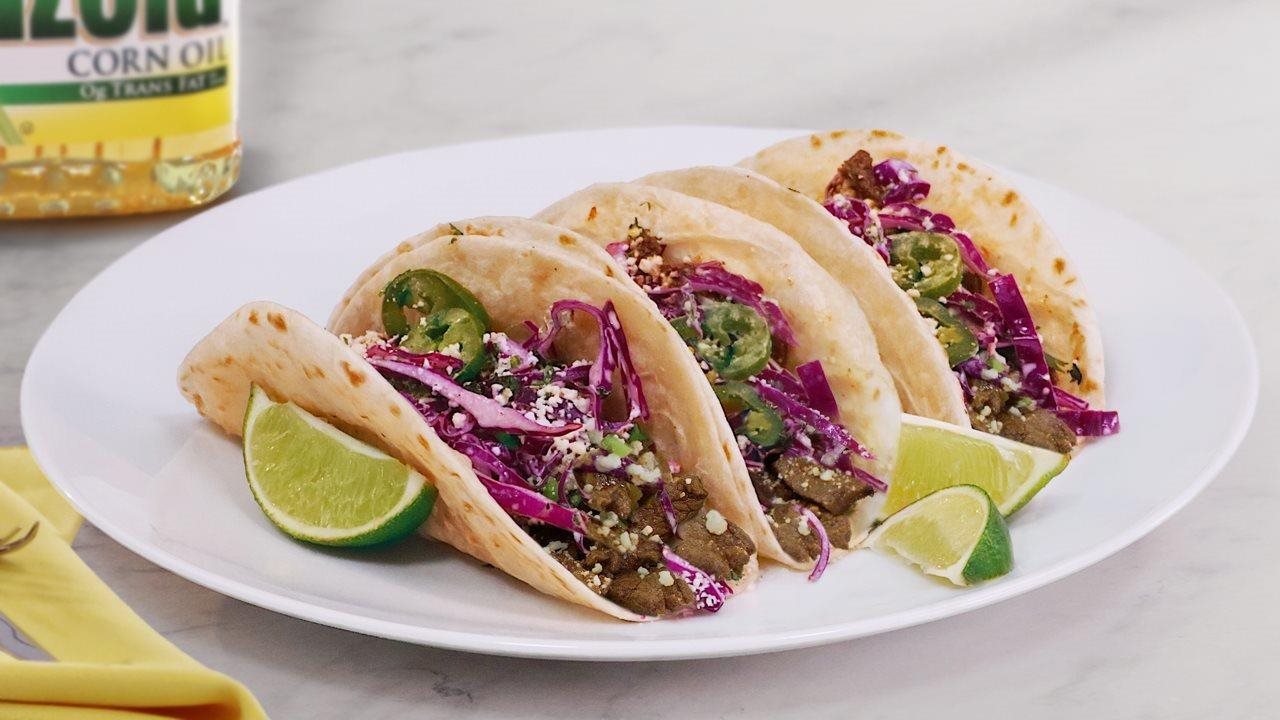 (BPT) – February is Heart Health Month, the perfect time to think about making simple wellness choices to better your family's heart health. One of the most important lifestyle aspects you can control is your diet. Take a moment and think about your eating habits. What do you tend to cook for yourself and your family? Are you making the best choices for them? If you are often frying meals or using a significant amount of butter or other higher saturated fat oils, you could be hindering your family's heart health and increasing their cholesterol levels.
Making smarter choices doesn't have to be complicated or expensive. A simple, effective change you can make in the kitchen is to replace butter, margarine or other higher saturated fat oils with heart-healthy* oils. Mazola® corn oil, for example, has natural cholesterol-blocking plant sterols that protect you from bad cholesterol and is low in saturated fat. It contains four times more cholesterol-blocking plant sterols than olive oil and 40% more than canola oil**.
In honor of Heart Health Month, chef Ana Quincoces has teamed up with Mazola® Corn Oil to share lighter recipes everyone can add to their weekly family dinner menu. Chef Ana knows firsthand the importance of a balanced diet and heart health as her family has had to make smarter choices. By sharing these lighter recipes, Ana is tackling any negative health perceptions around Hispanic cuisine and demonstrating how easy it is to keep heart health top of mind. Below is one of Ana's exclusive recipes that is simple, delicious and easy for anyone to make for their family.
Steak tacos
Ingredients
1 pound flank or skirt steak, frozen for 30 minutes
4 tablespoons (1/4 cup) Mazola® corn oil, divided
3 tablespoons tamari or reduced-sodium soy sauce
3 tablespoons freshly squeezed lime juice
3 cloves garlic, finely minced
2 teaspoons chili powder
1/2 teaspoon ground cumin
1/2 teaspoon dried Mexican oregano
8 taco-sized flour tortillas heated on skillet lightly coated with Mazola® corn oil until lightly charred.
Toppings
Cotija cheese
Chopped cilantro
Pickled jalapeno
Lime wedges
Directions
1. In a large bowl, combine soy sauce, lime juice, 2 tablespoons Mazola® corn oil, minced garlic, chili powder, cumin and oregano.
2. Remove steak from freezer and slice thinly across the grain. Place in the bowl with the marinade. Stir to cover steak slices with the marinade. Marinate for at least 45 minutes and up to 2 hours.
3. Heat 2 tablespoons of oil in a large skillet over high heat. Remove steak from marinade. Reserve marinade.
4. Add steak to the hot oil and sear on both sides for about 1 minute. Immediately reduce heat to medium-high.
5. Add the reserved marinade and cook, stirring often, until marinade has reduced to half, about 3-4 minutes.
6. To assemble, divide steak among warmed tortillas. Top with a generous spoonful of coleslaw, a sprinkling of chopped cilantro, crumbles of cotija cheese and pickled jalapeno.
7. Serve immediately with lime wedges.
To view more recipes and learn more about how you can incorporate heart-healthy* Mazola® corn oil into your meals, visit Mazola.com. There, you'll also find health and wellness information that can help you learn about improving your heart health.
DISCLAIMERS:
*Very limited and preliminary scientific evidence suggests that eating about 1 tablespoon (16 grams) of corn oil daily may reduce the risk of heart disease due to the unsaturated fat content in corn oil. FDA concludes there is little scientific evidence supporting this claim. To achieve this possible benefit, corn oil is to replace a similar amount of saturated fat and not increase the total number of calories you eat in a day. One serving of this product contains 14 grams of corn oil. See product pages for more information about corn, canola, vegetable plus and corn plus. See www.mazola.com for information about the relationship between corn oil and heart disease.
** Based on analysis of corn oil and 2013 USDA comparison of other cooking oils: Corn oil has plant sterols content of 135.6 mg/serving versus 30.0 mg/ serving for olive oil, 40.8 mg/serving for vegetable oil and 93.9 mg/serving for canola oil.