(BPT) – Longer days, warmer temperatures, backyard fun … summer is almost here! And, yes, there might be a lot on your home or yard to-do list in anticipation of the season, but don't get overwhelmed — take the guesswork out of opening your pool. As you begin to prep for summertime fun, follow these simple pool opening tips and hacks to stay confident about the process so you can spend more time enjoying the water.
1. Use a Sump Pump to Remove Excess Water on the Cover
If you have a winter cover or safety cover, chances are a fair amount of water and debris has built up on the cover during the off-season. To ease removal, use a sump pump to drain the water off the cover before moving it. Pro tip: Before folding up the cover, save time and money by sprinkling on Alkalinity Up or talcum powder to prevent mold and mildew from growing on the cover. Loosely fold the cover and store it in a cool, dry place like a basement, garage or storage shed.
2. Reconnect and Prep Equipment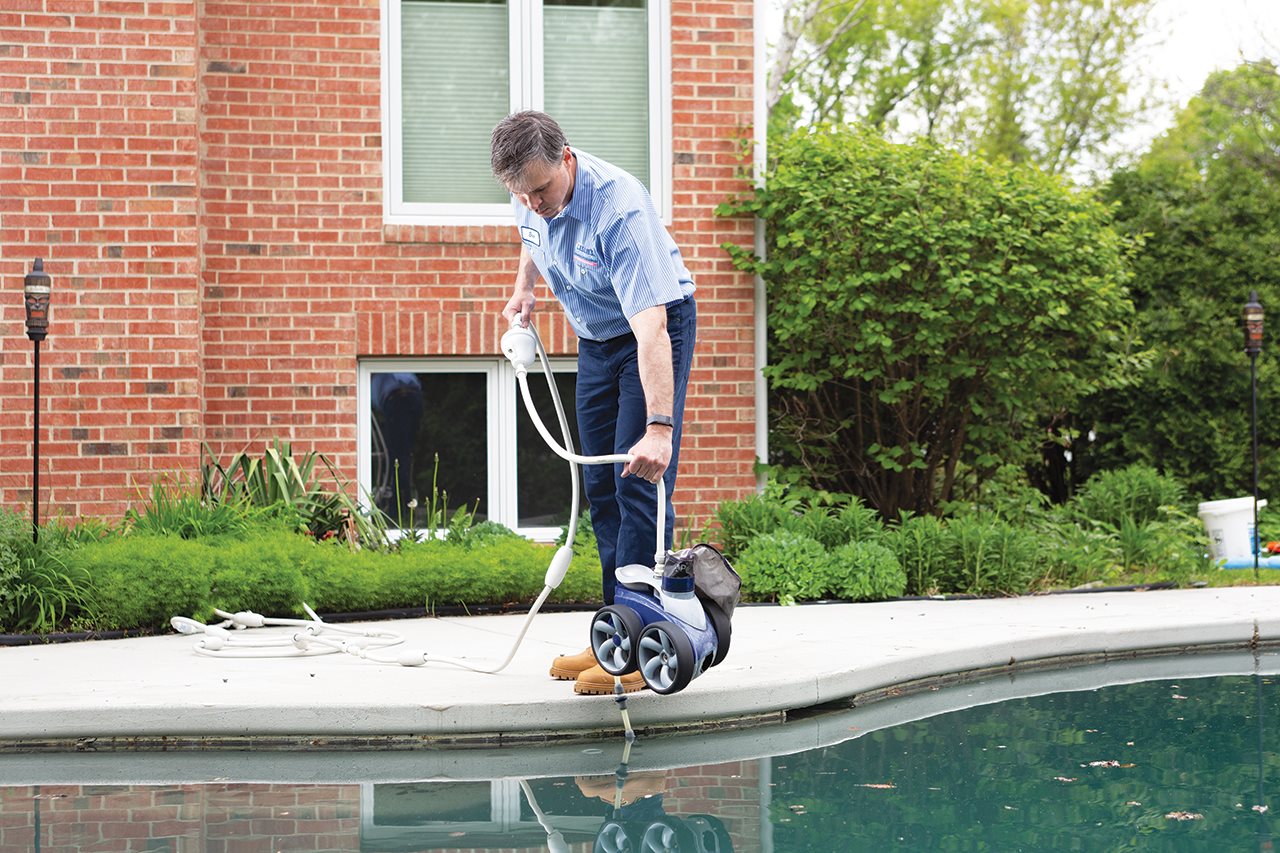 Reconnect the equipment you disconnected before the winter season. "This usually includes the pool filter, pump, heater, automatic pool cleaner, in-line chlorinators and anything else connected to your filtration system," says Tracy Dick of Leslie's Pool Supplies. "For above ground pools, reconnect the flexible plumbing lines to the pool equipment and skimmer." Pro tip: When connecting equipment, lubricate all o-rings, seals and hardware with a silicone lubricant. This will keep the equipment working properly all year, and will make it easier to disassemble them when you close your pool (saving you time!).
3. Say Goodbye to Metal Stains
"Over a long winter off-season, metals like copper and iron can build up in the pool and cause stains," says Dick. "These metals can be difficult to remove once they've begun staining the walls, so it's best to attack them early, saving you a potential headache down the road." One initial dose of METALfree during spring opening can help neutralize the metals in your pool and prevent further staining on the walls and pool floor." METALfree also helps eliminate "stained water" that comes from having high metal content.
4. Stay Smart about Water Chemistry
Safe and healthy water is critical. Test your water chemistry before adding any chemicals so you know exactly what's needed and how much chemical to add. The easiest way to test your water is with a FREE AccuBlue® Water Test at any Leslie's location. If you want to test your water quickly at home, use test strips or a test kit. Pro tip: Here's a helpful guide for standard chlorine pool water levels:
Total Alkalinity (TA): 80 to 120 ppm
pH: 7.4 to 7.6
Free Available Chlorine (FAC): 2.0 to 4.0 ppm
Calcium Hardness (CH): 200 to 400 ppm
Cyanuric Acid (CYA): 30 to 50 ppm
5. Brush and Shock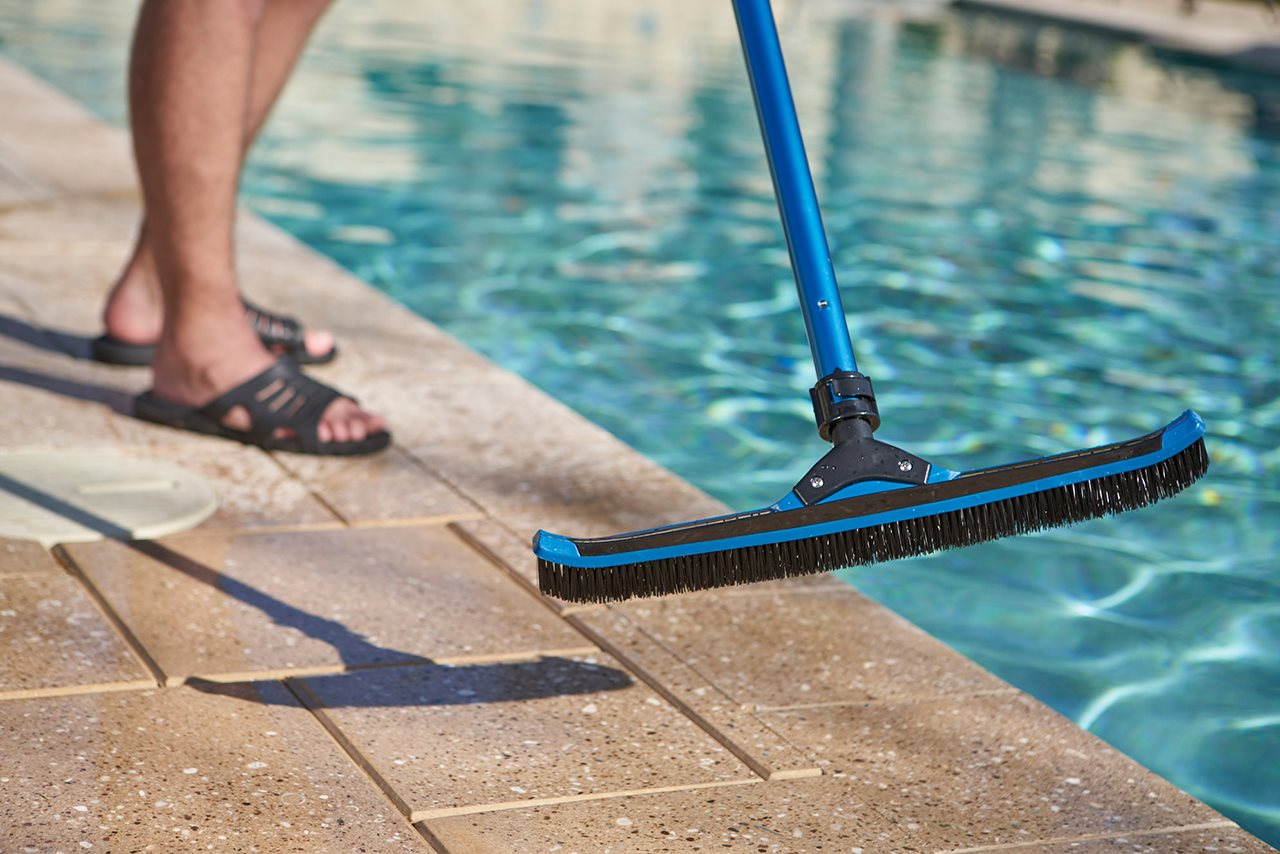 Once you're done brushing your pool, vacuum to reduce the strain on your filter. "Allow your filtration system to run overnight before shocking the pool the next day," says Dick. "Shocking is the final step for getting rid of all the bacteria, algae spores and other organic contaminants." Pro tip: Use two pounds of shock for every 10,000 gallons of water, which should raise your chlorine levels to 10.0 ppm. Depending on your pool, consider Leslie's Power Powder Plus. After shocking the pool, run the circulation system for at least two hours before adding an algaecide.
6. Prevent Algae All Season Long
For a clean and algae-free swimming season, start treatment before the first swimmers even jump into the pool. After shocking your pool, add an algae control to prevent the growth and help keep your pool clean, clear and fresh all year long. The last step is to take a water sample into your nearest Leslie's location for a FREE AccuBlue® Water Test and customized treatment plan. Once they give your pool the thumbs up, get ready for a summer of fun in the sun.
With more than 930 Leslie's stores around the country, it's easy to find everything you need to prepare for opening your pool this year. From service, equipment, chemicals and floats, Leslie's has everything you need, so you can spend less time maintaining your pool and more time enjoying it.