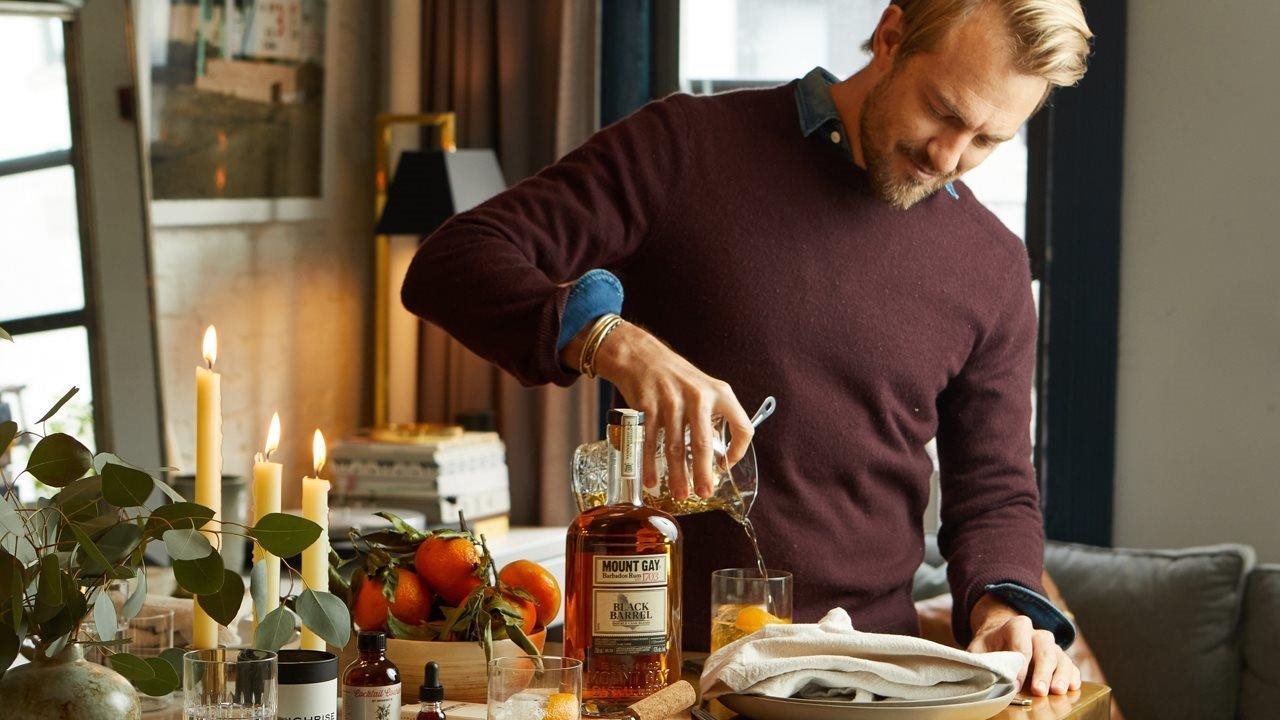 (BPT) – During this unique holiday season, many people plan to spend more time at home surrounded by a few select family members and friends, or they may even connect with loved ones virtually from afar. But that doesn't mean their gatherings and time spent together need to be any less special.
Sometimes, the simple but intimate moments in between the holiday rush can be the most meaningful and memorable.
"A gathering doesn't always have to be a blow-out extravaganza," notes tastemaker Patrick Janelle. "It can be as simple as afternoon drinks with friends or a cozy game night at home. But being prepared ahead of time can make it super easy to host a casual yet elevated gathering."
In that spirit, here are suggestions for turning this year's intimate holiday gatherings into occasions to be savored.
Create comfort. Set the stage so your few guests can fully relax, forget their cares and enjoy the warm camaraderie that comes from being around loved ones. Create a welcoming ambiance by offering plenty of comfortable seating, lighting the fire, setting out fragrant candles and keeping food and drink easily accessible. And there's no reason to leave out the decorations. "For an easy and inexpensive tablescape, I love using colorful, festive fruit," Janelle advises. "A bowl of pomegranates is a great option. And any holiday table is enhanced with taper candles. Get vintage brass candlesticks on eBay, or fill glasses with cranberries for simple DIY candlesticks."
Curate delicious cocktails. Offer your guests specially selected drinks that take your event to the next level. Serving a classic cocktail is a sure way to impress, and Mount Gay Rum makes that easy through its Mount Gay Moments x Cocktail Courier Collection, a series of limited-edition kits curated by tastemakers such as Janelle, to elevate occasions at home, whether you are hanging out "In the Kitchen," gathering "Around the Table" or cozying up "By the Fire." The premium kits feature the essential ingredients that can help you craft delicious Mount Gay cocktails, along with artisanal accessories for intimate gatherings. For Janelle's Around the Table kit, complementary items include a chic candle, cheese board, coasters and a deck of cards.
One delectable cocktail option? The Old Fashioned with Mount Gay Black Barrel Rum, topped off with an orange peel garnish. As the original rum distillery, Mount Gay from the island of Barbados leverages its 300 years of expertise and craftsmanship to create a range of well-balanced, distinctive rums. Black Barrel, so named as it finishes aging in bourbon barrels, makes the perfect alternative to whiskey for this classic cocktail.
Add tempting snacks. Think beyond the ordinary to find unique selections aimed at pleasing your guests. Janelle likes to pair three key items with cocktails: Green, mild and earthy Castelvetrano olives, a bowl of shelled pistachios and a bag of pre-popped popcorn.
Stage entertainment. Good conversation is always a staple, but your guests may also appreciate amusing distractions such as games, cards or activities like holiday crafts or baking projects. You may even want to round up and show old footage or old photos of past holiday celebrations. "Choose a theme to set the tone for the evening," Janelle recommends. "Plan a lively game night with your favorite card game, or a casual catch up with friends over a special meal."
Prepare great music. Keep the mood relaxed and festive by making your playlist well ahead of time, focusing on the tunes that will mean the most to your guests — and/or bring back happy memories from the past. "A jazz playlist can be used anytime during the holidays," notes Janelle. "It feels festive without hitting you over the head with holiday tunes."
Share with distant others. This season, many friends and family members will reconnect with each other through video conferencing rather than in-person meetings. Why not schedule a group Zoom call to include loved ones who can't attend your small gathering? You may even wish to gift everyone with Mount Gay Rum x Cocktail Courier Kits ahead of time so you can individually craft delicious drinks and toast each other from afar. "Mixing cocktails is a thoughtful and interactive way to elevate a small gathering … and it doesn't have to be difficult," Janelle points out.
Your holiday gatherings this year may be different than ever before, but with a little planning you can still make your guests feel special and full of holiday cheer. Learn more about selecting the perfect cocktails to serve at MountGayRum.com.